POPULAR DESIGN TRENDS FOR 2021
There's a great emotional lift when you bring something new into your home.  Heaven knows we all need that now.  As we continue to spend more time in doors – both Covid and winter created – why not do some redecorating.  Here are some design trends that are hot right now.
Furniture with Curves
Curves come in different shapes but all of them lend a calming effect to interior décor.  With a refined architectural design, rounded furnishing designs bring freshness.  In neutral colors they evoke peace but can bring excitement when executed in brilliant color.  You can do it with a modern flair, with a country chic or super traditional.
Brilliant Color
Emerald Green and Royal Blue are particularly hot right now.  You will find these executed in lovely velvet fabrics.  Choose carefully and make sure that your velvet is marked "performance" to insure durability.  If you really want to go bold, choose bright yellow.  These bright colors should be mixed with neutrals to avoid confusion.
In the green room, the gold on the nail head trim and in the pillows is used throughout the room to accent the green velvet.
When using multiple patterns, it's best to combine prints in different sizes and scales.  You can use geometrics, floral pattern, stripes and naturals very well when the colors are all similar.   Here's an example of a seasonal collection where red is the main color but ivory is used to pull it all together.   The blue sofa features geometric, paisley and striped patterns with a lovely emphasis on orange.
This blue sofa features performance velvet fabric and a classy gold base.  Note how the blue stands out against the neutral walls.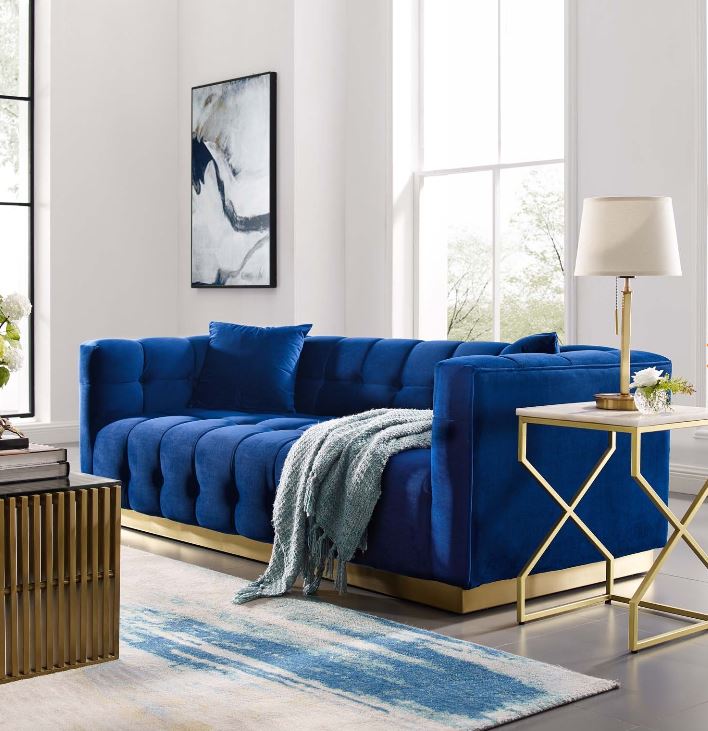 Yellow can be a shocker but when it is used well, it is quite distinctive.  Here we have silver trimmed occasional tables and a hint of yellow in the area rug.  The silver picks up the silver in the nail head trim on the arms.
This set is a riot of color.  These pieces were not all meant to be used together but somehow, they work.  This display at the High Point Furniture Market was set up to show the various colors for this mid-century modern offering.  The point is you can choose any of the colors or patterns you like and make them work.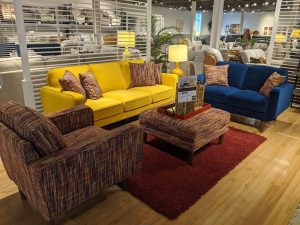 Nature Inspired Patterns
Maybe you were surprised as I was that animal prints have had a popular long life.  Now they are coming more available in furniture with an emphasis on "natural".  Faux fur is big along with zebra prints.  Here we have a dramatic set that features several animal prints. Note the neutral walls and Lucite tables which make the sofa set the star of the show.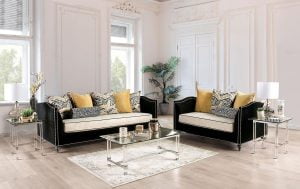 This dining set features chairs with a natural animal print.  The table is heavy and rustic and a very fitting complement to the pattern and leather on the chairs.  How about a fuzzy set of wing-back chairs?  The luxurious texture modernizes a very traditional design.
All of this can be done on a budget.  You don't have to "go for broke" to create some of these new looks.  This "chofa" (sofa with chaise) and the matching fuzzy chair are priced under $1500.
All of these beautiful room sets, and individual pieces are available at Lake Wylie Home Furniture where you'll get a private shopping experience with Susan.  Call or text in advance for an appointment.  You'll be happy you did.  704-770-7741