Home Décor:
Mixing Patterns and Colors like a Pro
Have you ever walked into a room that has many different colors and patterns yet looks totally pulled together?  It's not as hard as it looks and here are some tips to do it easily.
Start with a single object that has colors you love.  This can be a rug, a painting or a chair with a colorful pattern.   Build all the other items in the room around these colors.  Try to match the colors as closely as you can.  If there's a pillow or rug sample you can take with you to shop, that works great.  In our shop we can order 12 x 12" samples of rugs so you can see what your rug will look like and easily carry it with you.  Note the rug has several shades of blues and browns which work great with the brown sectional and beige dining chairs.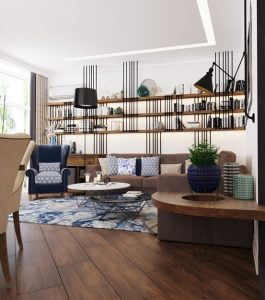 Focus on neutrals for your major pieces.  This is especially good if you already have upholstered furniture in a specific color.  If that's the case, choose your rug or painting to include some of that color.  That will get you off in the right direction.   Here's a room with obviously expensive leather furniture in a classic camel color.   Note how the rug helps pull the colors together.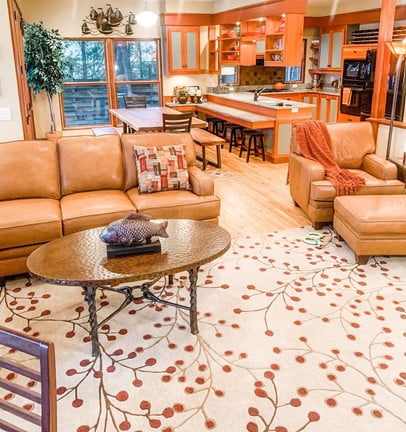 When using multiple patterns, it's best to combine prints in different sizes and scales.  You can use geometrics, floral pattern, stripes and naturals very well when the colors are all similar.   Here's an example of a seasonal collection where red is the main color but ivory is used to pull it all together.   The blue sofa features geometric, paisley and striped patterns with a lovely emphasis on orange.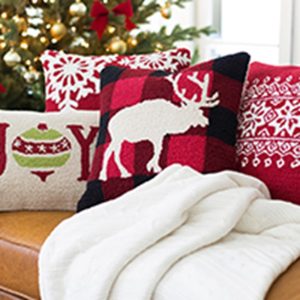 This room is done completely in neutrals where the different patterns on pillows provide interest.  Rooms done in all neutrals have a calming effect and can make a small space seem larger.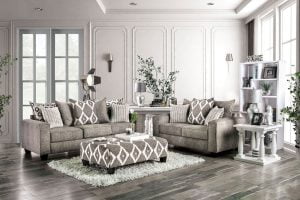 You can create a real impact with a colorful wallpaper.  When there is this much pattern and color on the walls (or on the floor in the case of a rug) choose other décor items in single colors that match what's in the "riot" on the walls.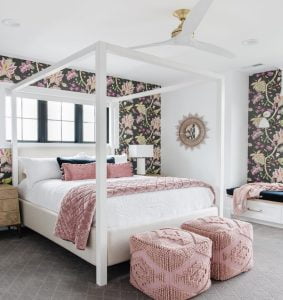 When you visit Lake Wylie Home Furniture, we can help you create the room of your dreams by mixing and matching inventory items.  You don't have to spend a huge amount on custom-made furniture to achieve a great effect like this which we designed for our customer's new home.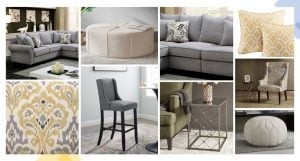 Call or text for an appointment.  If you have existing furniture, we'll work with it to create a beautiful and professional result.
I'm Susan – Give me a call.  704-770-7741