[fusion_builder_container admin_label="Content" hundred_percent="no" hundred_percent_height="no" hundred_percent_height_scroll="no" hundred_percent_height_center_content="yes" equal_height_columns="no" menu_anchor="" hide_on_mobile="no" status="published" publish_date="" class="" id="" background_color="" background_image="" background_position="left top" background_repeat="no-repeat" fade="no" background_parallax="none" enable_mobile="no" parallax_speed="0.3″ video_mp4="" video_webm="" video_ogv="" video_url="" video_aspect_ratio="16:9″ video_loop="yes" video_mute="yes" video_preview_image="" border_size="0px" border_color="" border_style="solid" margin_top="" margin_bottom="" padding_top="" padding_right="90px" padding_bottom="" padding_left="90px"][fusion_builder_row][fusion_builder_column type="1_1″ layout="2_3″ spacing="5%" center_content="no" link="" target="_self" min_height="" hide_on_mobile="no" class="" id="" background_color="" background_image="" background_position="left top" undefined="" background_repeat="no-repeat" hover_type="none" border_size="0″ border_color="" border_style="solid" border_position="all" padding_top="" padding_right="" padding_bottom="" padding_left="" margin_top="0px" margin_bottom="40px" animation_type="" animation_direction="left" animation_speed="0.1″ animation_offset="" last="no"][fusion_separator style_type="single solid" hide_on_mobile="small-visibility,medium-visibility,large-visibility" class="" id="" sep_color="" top_margin="5px" bottom_margin="30px" border_size="" icon="" icon_circle="" icon_circle_color="" width="60%" alignment="center" /][fusion_text columns="" column_min_width="" column_spacing="" rule_style="default" rule_size="" rule_color="" hide_on_mobile="small-visibility,medium-visibility,large-visibility" class="" id=""]
Creating a Productive Home Office
With so many of us working at home we're struggling with two things:
1 – Fitting your workspace into a room often used for another purpose
2 – Walking away from the desk when the job is done
Here are some tips to address these challenges:
Choose a desk that closes up
There are many home office solutions that allow you to easily close shop and hide papers.  First is an office armoire.  This is a piece of furniture that looks like a storage cabinet when the day is done.  Make sure you get one that has good shelving and drawer space to keep yourself organized.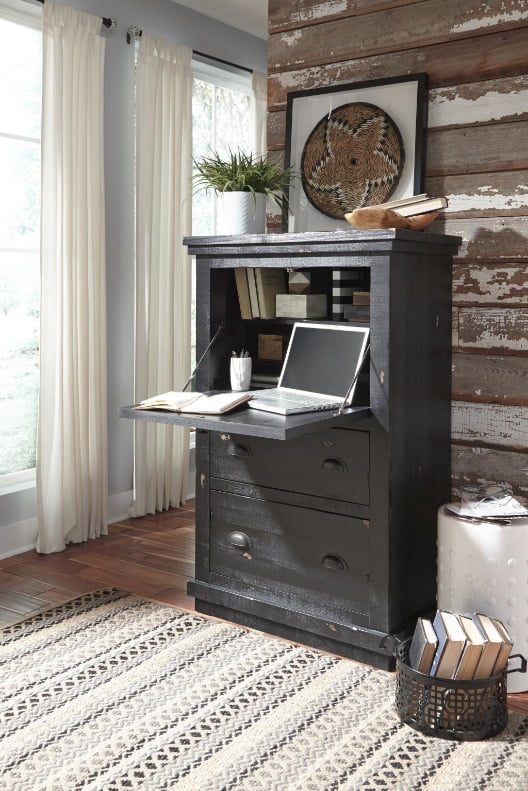 One of the newest innovations is a swivel peninsula that offers a larger work area when  moved open and hugs the wall when closed.  These come in many different styles so choose one that matches your décor.  A big advantage of this style is that they have more storage space to enclose a printer or other peripherals.  Make sure you measure the space in your room so that both the closed and open versions can be accommodated.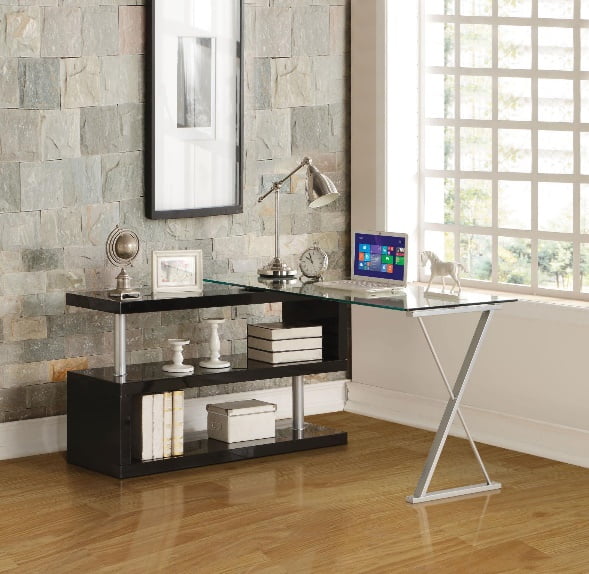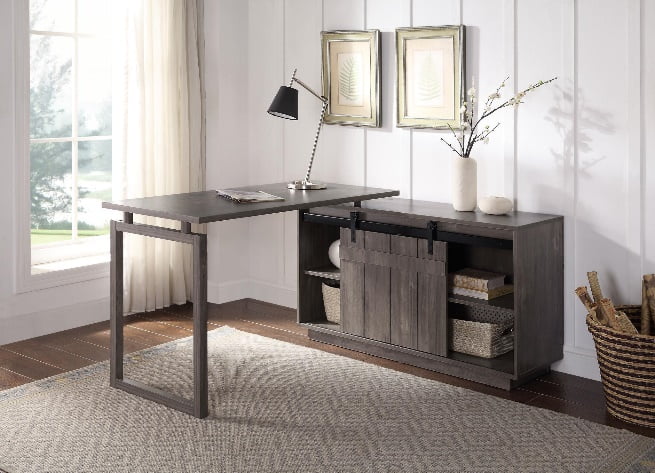 Really Small Space?  Sit on Your Sofa.
At the recent furniture market, I found a company specializing in beautiful lift-top coffee tables and desks.  These are not inexpensive but when they are sitting in front of your sofa you would never know they are also a desk.  The tops lift either on a mechanical or electric mechanism.  Some allow you to sit and work or stand and work – great to relieve fatigue.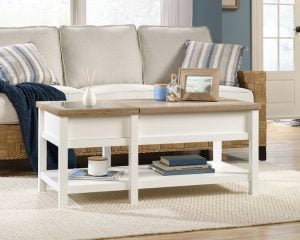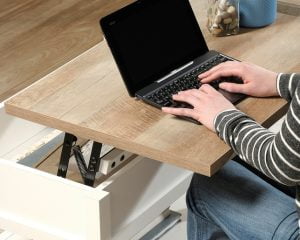 Make Your Office Chair Comfortable AND Beautiful
Today's office chairs offer many adjustments.  Make sure you get one with a good lumbar support and infinite height adjustment.  Desk chairs can be traditional or modern.  Colors range from the normal brown/beige to bright velvets in blue, red and even pink.   If you choose a chair color that matches with an accent color in your room, it won't look so out of place when you close up shop.
Brown is "down"; gray is the "in" neutral color.  There are lots of choices in this soft color.  Here is one with infinite adjustments for comfort.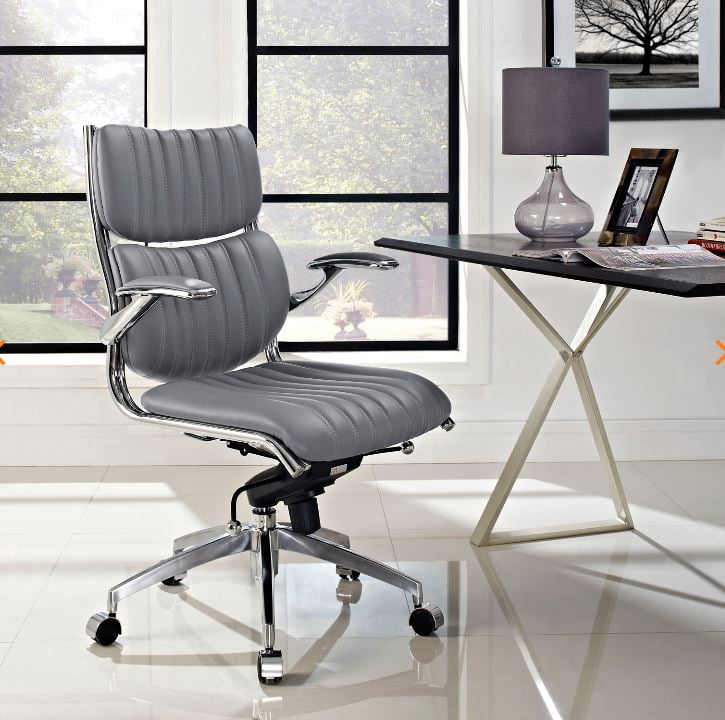 Gold accents are a hot trend especially with royal blue velvet.  If you are using gold or brass in your room, this one is a good choice.   It comes in many colors.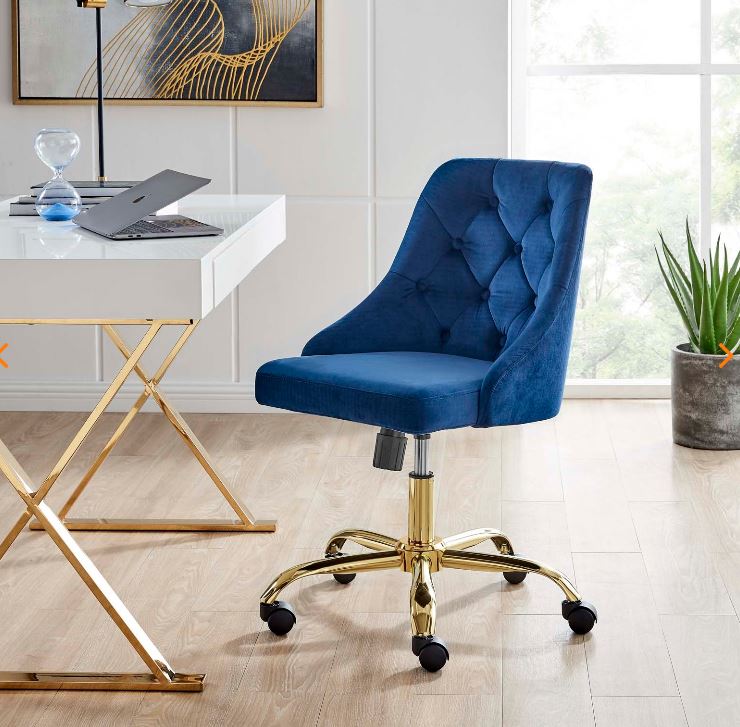 Soft pink is on the upswing.  We love this color with gold accents.  And it beautifully complements any room with delicate colors.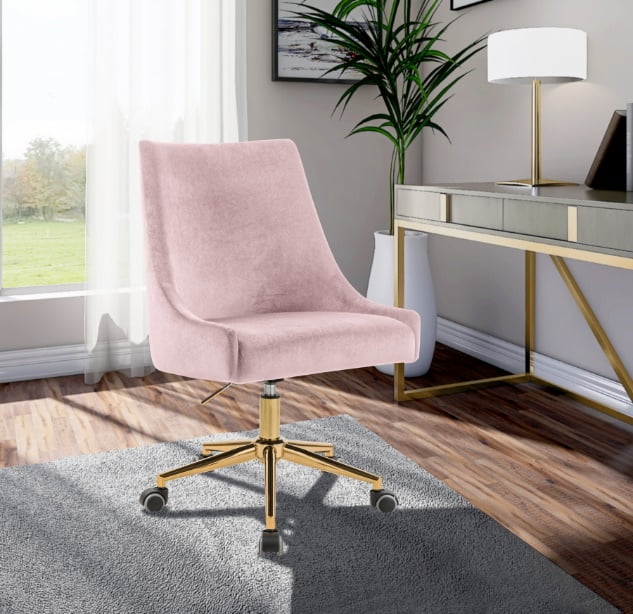 If you love red and a sleek modern look, here's a great choice.  You can also select white, black, dark gray, light gray, camel, bright green and orange in this style.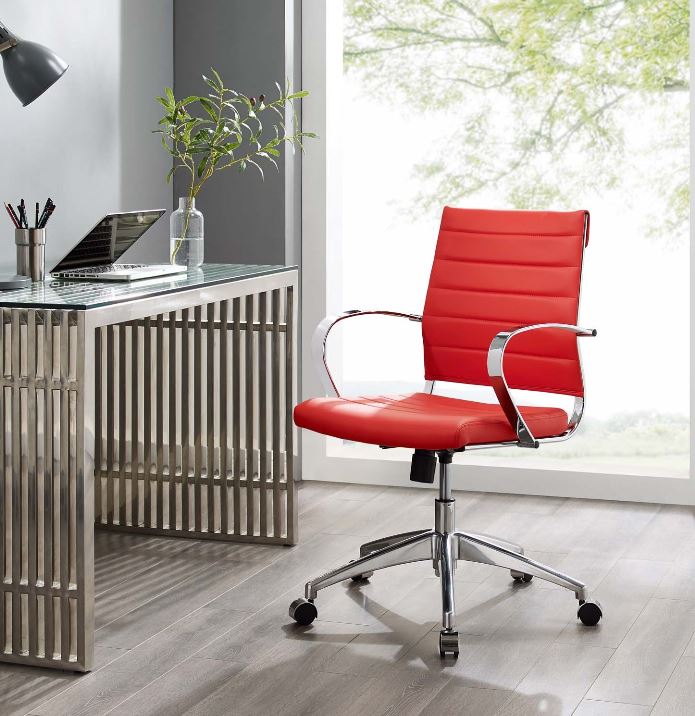 Susan would love to help you design your office space. 
Give us a call to make an appointment.  704-770-7741.
Our Charlotte, NC Furniture store has the ultimate selection of top brand pieces, sets, and mattresses all at daily discount prices.  Lake Wylie Home Furnishing, maximum quality, minimum price. We'll make your house a home! 
[/fusion_text][fusion_separator style_type="default" hide_on_mobile="small-visibility,medium-visibility,large-visibility" class="" id="" sep_color="" top_margin="5px" bottom_margin="" border_size="" icon="" icon_circle="" icon_circle_color="" width="" alignment="center" /][fusion_separator style_type="single solid" hide_on_mobile="small-visibility,medium-visibility,large-visibility" class="" id="" sep_color="" top_margin="30px" bottom_margin="-10px" border_size="2″ icon="" icon_circle="" icon_circle_color="" width="" alignment="center" /][fusion_sharing tagline="Share This Post!" tagline_color="" backgroundcolor="" title="" link="" description="" icons_boxed="" icons_boxed_radius="" color_type="" icon_colors="" box_colors="" tooltip_placement="" pinterest_image="" hide_on_mobile="small-visibility,medium-visibility,large-visibility" class="" id="" /][/fusion_builder_column][/fusion_builder_row][/fusion_builder_container]